Jack Scott
Democratic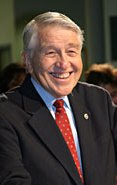 CA State Assembly
Candidate Biography:
Jack Allen Scott
Born: August 24, 1933 in Sweetwater, Texas
Married: Lacreta Isbell (m. 1960, d. 2021)
Children: Sharon Mitchell, Sheila Head, Amy Schones, Greg Scott and Adam (d. 1993)
1973-1978: Dean of Instruction, Orange Coast College
1978-1987: President, Cypress College
1987-1995: President, Pasadena City College
2009-2012: Chancellor, California Community Colleges
LEGISLATION: Scott was the author of SB 1209 (2006), which required all teaching credential candidates to create a videotape while student teaching, as part of the Teacher Performance Assessment (TPA) of the PACT.
LEGISLATION: Author of SB 1110 (2008) which allows the state to suspend teachers' credentials when they have been convicted of a sex offense or other crime in another state.
MOTIVATION: On October 23, 1993, Scott's son Adam Scott, 27, died after being accidentally shot while a friend, Ethan David Dubrow, showed his "gun collection" at a party at Dubrow's house in the Park La Brea area of Los Angeles. Dubrow pleaded guilty to involuntary manslaughter in 1995.
PLACENAME: The Jack Scott Building at Pasadena City College houses the college's administration.
Source: California Blue Book (2000)
Source: Slayings Put Educator on Crusade for Gun Control by Renee Tawa, Los Angeles Times (11/21/1993)