Ellen M. Corbett
Democratic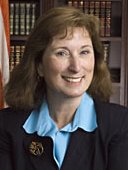 corbettforsenate.com
Candidate Biography:
Born: December 31, 1954 in Oakland, CA
Child: Ryan
Previous: Member, San Leandro City Library Commission
1990-1994: Member, San Leandro City Council
1990-1992: Alameda County Democratic Central Committee
1994-1998: Mayor, City of San Leandro
2000: Delegate, Democratic National Convention
2002-2004: Member, California Judicial Council
2007-2010: Member, Judicial Council of California
2010-2014: Majority Leader, California State Senate
2014: Primary Candidate for CD-15 (Lost; 25.2%)
2015-2019: Member, Unemployment Insurance Appeals Board
2020: Delegate, Democratic National Convention
CLOSE CONTEST: Hugh Bussell narrowly won a spot in the 2014 General election after defeating Senate Majority Leader Ellen Corbett by 430 votes (0.5%).
FULL HOUSE DROUGHT: The longest period without a floor session that all members attended (all 80 Assemblymembers and all 40 Senators) was 7 years and 11 months between July 10, 2007 and June 1, 2015. Corbett was the presiding officer of the Senate on the last day before that gap.
Source: California Blue Book (2000)
Source: "The Judicial Council of California: Membership" by the Judicial Council of California (accessed 5/30/2012)