Richard Alarcon
Democratic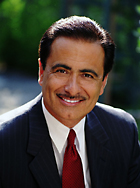 lacity.org
Candidate Biography:
Born: November 24, 1953 in Los Angeles, CA
Married: Corina Alarcon (div.), Flora Montes De Oca
Children: Armando, Antonio, Claudia, and Andrea
Previous: Valley Area Coordinator , Los Angeles Mayor Tom Bradley
1993-1998: Member, Los Angeles City Council
2000: Delegate, Democratic National Convention
2004: Delegate, Democratic National Convention
2005: Candidate for Mayor of Los Angeles (Lost; 3%)
2007: Resigned from the State Assembly on March 16.
2007-2012: Member, Los Angeles City Council
LEGISLATION: In 2008, Los Angeles Mayor Antonio R. Villaraigosa signed into law an ordinance requiring most pets to be spayed or neutered. The ordinance had been co-authored by Councilmembers Alarcon and Tony Cardenas.
Legal Troubles: Following an investigation by the Los Angeles County District Attorney's office into whether Alarcon was a resident of his City Council district, Alarcon admitted to having moved out of the district "in October after a man he described as mentally ill broke into the home, changed locks on at least three doors and destroyed some of his possessions." [Source: "Alarcon says his legal residence isn't safe, so he's staying elsewhere" by David Zahniser and Maeve Reston, Los Angeles Times, 1/16/2010]
Alarcon and his wife were "indicted on 24 charges of voter fraud and other felonies stemming from allegations he does not live in his council district". ["Alarcon, wife indicted in voter fraud" by David Zahniser and Jack Leonard, Los Angeles Times, 8/4/2010]. In May 2012, eight of the charges against Alarcon were dismissed by a Los Angeles Superior Court judge. ["Judge dismisses charges against L.A. Councilman Richard Alarcon" by Nicholas Riccardi, Los Angeles Times PolitiCal Blog (5/3/2012)]. On July 23, 2014, Alarcon was convicted of three voter-fraud charges and one perjury charge, but acquitted on 12 other counts. Alarcon was sentenced to 120 days in jail, 600 hours of community service, five years on probation, and will be permanently barred from holding public office. In January 2016, the 2nd District Court of Appeal overturned Alarcon's convictions. In May 2019, Los Angeles District Attorney Jackie Lacey decided not to retry the case.
Source: California Blue Book (2000)