Jerome E. Horton
Democratic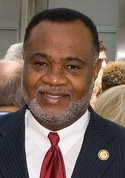 CA BOE
Candidate Biography:
Jerome Edgar Horton
Born: September 14, 1956 in Pine Bluff, Arkansas
Married: Yvonne H. Horton
Children: Myeshia and Matthew
1979-2000: District Reviewer and Auditing Supervisor, State Board of Equalization
1994: Primary Candidate for SBOE-4 (Lost; 7.29%)
1996-2000: Member, Inglewood City Council
2006: Primary Candidate for SBOE-4 (Lost; 31.6%)
2006-2008: Member, California Medical Assistance Commission
2008: Early Candidate for SD-25 (Withdrew and endorsed Rod Wright)
2016: Delegate, Democratic National Convention
MISSED VOTES: A 2004 study conducted by students at the USC School of Policy, Planning and Development found that Horton had missed more votes (he missed 60% of the votes) than any other legislator that in the 2000-01 session. [LA Times]
Yvonne Horton serves as City Clerk for Inglewood (2002-Present)
LEGISLATION: During his time in the legislature, Horton introduced 129 bills, of which 50 were chaptered. A large majority of the legislation focused on the areas of gambling, cigarettes and tobacco, and taxes.
During Horton's chairmanship at the Board of Equalization, the board worked on the development of the Centralized Revenue Opportunity System (CROS).
Source: California Legislature Handbook (2001-02)
Source: "A Plain Aye or Nay Will Do" Op-Ed by the LA Times Editoral Board (9/11/2004)