Rod Wright
Democratic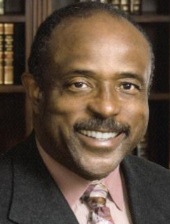 capitolmuseum.ca.gov
Candidate Biography:
Roderick Devon Wright
Born: July 3, 1952 in Chicago, Illinois
Children: Two daughters

1984: Delegate, Democratic National Convention
1989: Wright dropped out the AD-50 Special Election on January 11th.
Previous: Staff, Los Angeles City Councilman Robert Farrell
Previous: Deputy, Los Angeles City Councilman David Cunningham
1990: Primary Candidate for AD-48 (Lost)
1991: Candidate for Los Angeles City Council (Lost; 48.9%)
1992-1995: District Director, Congresswoman Maxine Waters
1992: Delegate, Democratic National Convention
1995: Candidate for Los Angeles City Council (Withdrew)
Previous: Speechwriter, Reverend Jesse Jackson
2003: Candidate for Los Angeles City Council (Lost; 11.2%)
2006: Early Candidate for SD-26 (Withdrew)
2014: Resigned from the State Senate on September 22.
In 1999, Wright was the target of an attempted recall led by Doris Hill and 99 others. The recall failed to qualify for the ballot.
Legal Troubles: According to the L.A. Times; In September 2010, "a Los Angeles County Grand Jury unsealed an eight-count felony indictment against state Sen. Roderick Wright (D-Inglewood), accusing him of filing a false declaration of candidacy, voter fraud and perjury beginning in 2007, when he changed his voter registration to run for the Legislature." [Source] A judge dismissed two of the eight charges in March 2011. [Source] The previously dismissed charges (two counts of voting fraud) were reinstated in July 2011. [Source] In January 2014, Wright was found guilty of all eight charges. On September 12, 2014, Wright was sentenced to 90 days in jail, 1,500 hours of community service, and three years of probation. On October 31, Wright was booked into the Los Angeles County Jail to begin his service, but was released 70 minutes later due to jail overcrowding.
LEGISLATIVE PUNISHMENT: Senator Wright was on a voluntary paid leave of absence from the State Senate between February 25, 2014 and September March 28, 2014. Senators Ron Calderon, Rod Wright, and Leland Yee were placed on involuntary paid suspension by the State Senate on March 28, 2014. Wright remained on suspension until his resignation on September 22nd.
In September 2014, Chris Norby wrote a letter to the editor in which he noted; "I served with state Sen. Roderick D. Wright (D-Inglewood) for three years in the Legislature and found him to be the kind of thoughtful, bipartisan gentleman that Sacramento sorely needs. He served the Legislature with distinction, treated his colleagues with respect and served his constituents well." Source: "Readers React: What do Rod Wright's constituents think?: by Chris Norby, Los Angeles Times, 9/17/2014
PARDON ME: On November 21, 2018, Wright was pardoned by Governor Jerry Brown for his 2014 perjury conviction as well as a vehicle theft conviction in 1972.
QUOTABLE: When asked in August 2014 about how he felt about the Senate suspending him, Wright answered; "At the end of the day, the Senate has to look at protecting the institution. It's not about me. You have to do what you perceive to be in the best interest of the institution. I respect that. … The institution is bigger than two or three members."
Source: California Blue Book (2000)
Source: "State Sen. Rod Wright indicted on voter fraud, perjury" by Jean Merl, Los Angeles Times (September 16, 2010)
Source: "Complete List of Recall Attempts" by the California Secretary of State (Accessed 2/14/2011)