Gloria Negrete-McLeod
Democratic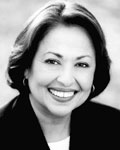 CA State Assembly
Candidate Biography:
Born: September 6, 1941 in Los Angeles, CA
Married: Gilbert L. McLeod
Children: 10 children
Previous: Member, Chaffey Community College Board (5 years)
1998: Primary Candidate for AD-61 (Lost; 47%)
2013: Resigned from the State Senate on January 2.
2014: Candidate for San Bernardino County Board of Supervisors (Lost; 47.8%)
2015-Present: Member, Chaffey Community College Board
LEGISLATIVE PUNISHMENT: Negrete McLeod was one of three State Senators locked out of their offices on March 12, 2007 by Senate President pro Tem Don Perata for attending a fundraiser in support of moderate Democrats in the Assembly.
Be Fruitful and Multiply: Negrete McLeod has 10 children and 27 grandchildren.
Source: California Legislature Handbook (2001-02)