Don Perata
Democratic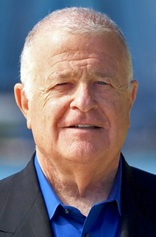 oaklandnorth.net
Candidate Biography:
Born: April 30, 1945 in Alameda, CA
Married: ????? (div.)
Children: Nick Perata and Rebecca Perata-Rosati
1975: Candidate for Mayor of Alameda (Lost)
1980-1985: Chief Fundraiser for Congressmen Howard Berman, Henry Waxman, and Mel Levine
1986-1994: Member, Alameda County Board of Supervisors
1994: Primary Candidate for Controller (Lost; 27.27%)
1994-1996: Staff Assistant, Senate Pro Tem Bill Lockyer
1998: Declined to serve the Assembly term to which he had been elected.
2002-2004: Majority Leader, California State Senate
2004-2008: President pro Tempore, California State Senate
2008: Proponent, Proposition 93 [Amending Term Limits] (Failed; 46.5%)
2008: Early Candidate for SBOE-01 in 2010 (Withdrew)
2010: Candidate for Mayor of Oakland (Lost; 48.9%)
2012: Early Candidate for Contra Costa County Board of Supervisors (Withdrew)
Perata ordered three State Senators (Ronald S. Calderon, Gloria Negrete McLeod, and Lou Correa

) locked-out of their offices at the Capitol as punishment for attending a fundraiser in support of moderate Assembly Democrats.

LEGISLATION: Author of SB 23 (1999) makes it a crime, beginning January 1, 2000, to manufacture, import, or sell, any firearm magazine with a capacity of more than 10 rounds.

LOCKDOWN: Perata ordered a legislative lockdown of the State Senate on July 20, 2007 in order to force Republicans to compromise on the state budget. The Senate remain in session for 19 hours.
On the ballot twice: Because of the concurrent victories in the SD-09 Special Election and AD-16 General Election, Perata was actually elected to both houses of the legislature for the 1999-00 Session. Perata remained in the Assembly until the start of December 1999, when he was sworn into the Senate.
Source: California Blue Book (2000)
Source: "Vorderbrueggen: Perata says 'no thanks' to supe bid" by Lisa Vorderbrueggen, Contra Costa Times (12/22/2011)