Loni Hancock
Democratic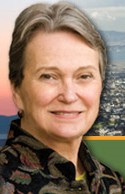 CA State Assembly
Candidate Biography:
Born: April 10, 1940 in Chicago, Illinois
Married: Tom Bates (m. 1986)
Children: Leita and Mara, Christopher "Casey"* and Jonathan
1971-1979: Member, Berkeley City Council
1987-1994: Mayor, City of Berkeley
1994-2001: Regional Representative, US Department of Education
LEGISLATION: Author of Proposition 15 (2010) [California Fair Elections Act of 2008], which relates to public financing of legislative campaigns.
Hancock was the first State Assemblymember to launch a Blog; Assemblymember Loni Hancock's Blog.
Casey Bates is a Deputy District Attorney in Alameda County (2000-Present). He previously worked for the San Francisco District Attorney's Office (1997-2000).
Source: California Legislature Handbook (2003-04)