Tom Bates
Democratic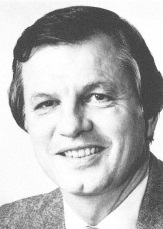 cityofberkeley.info
Candidate Biography:
Thomas H. Bates
Born: February 9, 1938 in San Diego, CA
Married: Loni Hancock (in 1986)
Child: Casey and Jonathan
1972-1976: Member, Alameda County Board of Supervisors
2002-2016: Mayor, City of Berkeley
2008: In October 2007, a recall campaign was begun against Bates, who was "described as too conservative for the city." [Source: berkeleyrecall.com]
Bates was a member of UC Berkeley's 1959 Rose Bowl Team.
In February 2008, Bates was at the center of a national debate after the Berkeley City Council voted to request the closure of a Marine Corps Recruiting Station, whose recruiters were described as "uninvited and unwelcome guests" in Berkeley.
Source: California Legislature Handbook (1989)