Mark Ridley-Thomas
Democratic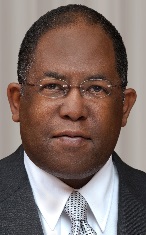 CA State Assembly
Candidate Biography:
Born: November 6, 1954 in Los Angeles, CA
Married: Avis Ridley-Thomas
Children: Sebastian and Sinclair (twins)
University: University of Southern California (Ph.D.; Social Ethics and Policy Analysis, 1989)
1991-2002: Member, Los Angeles City Council
2004-2006: Majority Caucus Chair, California State Assembly
2008: Resigned from the State Senate on November 30.
2008-Present: Member, Los Angeles County Board of Supervisors
2020: Candidate for Los Angeles City Council (Pending)
Ridley-Thomas took office as a Los Angeles County Supervisor on December 1st, 2008.
HISTORIC: The longest continuous period in state history that the legislature has had at least once vacancy lasted 893 days from the resignation of State Senator Mark Ridley-Thomas on November 30, 2008 to the inauguration of Assemblywoman Beth Gaines on May 12, 2011.
Ridley-Thomas is one of nine legislators who served in both houses of the California State Legislature since 1990 but never termed out of either.
Source: California Legislature Handbook (2003-04)