Beth Gaines
Republican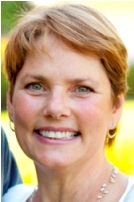 tedgaines.com
Candidate Biography:
Beth Burkhard Gaines
Born: September 17, 1959 in Sacramento, CA
Married: Ted Gaines (m. 1985)
Children: Katelyn and Haley (twins), Amy, Caroline, Teddy, Kelly
2016: Candidate for El Dorado County Board of Supervisors (Lost; 42%)
2019: Early Special Election Candidate for SD-01 (Declined to run)
NOTABLE HISTORY: The longest continuous period in state history that the legislature has had at least once vacancy lasted 893 days from the resignation of State Senator Mark Ridley-Thomas on November 30, 2008 to the inauguration of Assemblywoman Beth Gaines on May 12, 2011.
TERM LIMITS: With her election to the Assembly in May 2011, Gaines became the last person elected under California's original Term Limits law.
Be Fruitful and Multiply: Gaines has six children.
Source: Birth information from "California Birth Index (1905-1995)" by SFgenealogy
Source: "Assembly race for Gaines' old seat gets quickly crowded" by Gus Thomson, Roseville Press Tribune (1/16/2011)
Source: "Open Assembly seat draws crowd" by Torey Van Oot, Sacramento Bee (2/26/2011)
Source: California Legislature Handbook (2011-12)
Source: California Assembly Handbook (2015)