Mary Salas
Democratic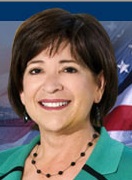 CA State Assembly
| Date | Party | Office | Votes | Result |
| --- | --- | --- | --- | --- |
| 11-07-2006 | Democratic | AD-79 | 39437 | Win |
| 11-04-2008 | Democratic | AD-79 | 74051 | Win |
Candidate Biography:
Mayor Casillas Salas
Born: March 17, 1948 in Chula Vista, CA
Married: Salvador
Children: Michele Salas and Sara Hice
1993-2001: Staff, California Trade and Commerce Agency
Previous: Member, Chula Vista Planning Commission
1996-2004: Member, Chula Vista City Council
2002: Candidate for Mayor Chula Vista (Lost)
2004: Presidential Elector
2004-2006: Member, Southern Irrigation District
2006: Member, Sweetwater Authority Board of Directors
2010: Primary Candidate for SD-40 (Lost; 49.9%)
2018-Present: Mayor, City of Chula Vista
According to the San Diego Union-Tribune, Mary Salas declared victory in the SD-40 Primary on the morning of June 9th "after securing a slim but solid lead" (Salas, 50.6%, Vargas, 49.4%) but Juan Vargas declined to concede the election. It wasn't until June 26th that Vargas took an extremely narrow lead in the vote count (Vargas, 50.1%; Salas, 49.9%). According to the Sacramento Bee, Vargas declared victory on the evening of July 12th when the final votes were counted, giving him a 22-vote margin. Salas ended the recount and conceded the election on July 22.
LEGISLATIVE HISTORY: According to biographic data on the JoinCalifornia.com website, Salas was born farther south than any other California-born state legislator. Chula Vista is three miles (6 km) farther south than Calexico, where Bob Huff was born.
Source: California Legislature Handbook (2007-08)