Jean Fuller
Republican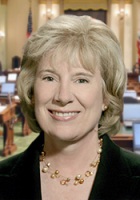 CA State Assembly
Candidate Biography:
Born: April 16, 1950 in Bakersfield, CA
Married: Russell
University: University of Southern California
1983-1988: Principal, Keppel Union School District
1990-1999: Superintendent, Keppel Union School District
1999-2006: Superintendent, Bakersfield City School District
2015-2017: Minority Leader, California State Senate
2016: Delegate, Republican National Convention
2016: Candidate for Presidential Elector for California (Lost)
2019-Present: Director, Early College Program at Bakersfield College
PRESIDING OFFICER: On Janaury 31, 2011, Fuller became the first Republican in 14 years to be a presiding officer in the California State Senate. Prior to Fuller, the last Republican to run a meeting of the State Senate was Robert G. Beverly in 1996.
Although some sources indicate Fuller was born in Shafter, she was actually born in Bakersfield. She grew up in Shafter, and now lives in Bakersfield.
Source: California Legislature Handbook (2007-08)
Source: "After 14 Years, a Republican Is Back on the Senate Rostrum" by Greg Lucas, California's Capitol (2/3/2011)
Source: "Jean Fuller to lead an Early College Program at Bakersfield College" by Hope ShyAnne, The Renegade Rip (2/8/2019)