William H. Taft
Republican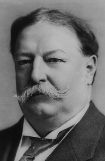 Library of Congress
| Date | Party | Office | Votes | Result |
| --- | --- | --- | --- | --- |
| 11-03-1908 | Republican | President | 214398 | Win |
| 11-05-1912 | Republican | President | 3914 | Loss |
Candidate Biography:
Born: July 11, 1921 in Cincinnati, Ohio
Married: Helen Herron Taft
Died: February 3, 1930 in Washington, DC
1890-1892: United States Solicitor General
1901-1903: Civil Governor of the Philippines
1904-1908: Secretary, United States Department of War
1906: Provisional Governor of Cuba
1909-1913: President of the United States
1921-1930: Chief Justice, United States Supreme Court
California is home to twelve schools named after President Taft; six Elementary Schools (in Orange, Redwood City, Riverside, Santa Ana, Stockton, and Taft), two Middle Schools (in San Diego and Taft), three High Schools (in Sanger, Taft, and Woodland Hills)
PLACENAME: The town of Taft [California] changed its name to honor the President. It was previously named Moron.
US Currency: William Howard Taft appeared on a "Presidential $1 Coin" that was issued in 2013.