John C. Fremont
Republican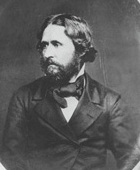 Library of Congress
| Date | Party | Office | Votes | Result |
| --- | --- | --- | --- | --- |
| 12-18-1849 | Republican | Senate1 | 0 | Win |
| 11-04-1856 | Republican | President | 20339 | Loss |
Candidate Biography:
John Charles Fremont
Born: January 21, 1818 in Savannah, Georgia
Married: Jessie Benton (in 1841)*
Child: Elizabeth
Military Service: USN, ARMY (Mexican-American War, Civil War)
Died: July 13, 1890 in New York, New York
1847: Signed the Treaty of Cahuenga, which surrendered the last Mexican military forces in California ended the Mexican-American War in California. (The seven signatories were Pierson B. Reading, W. H. Russell, Louis McLane, Jr., Jose Antonio Carrillo, Agustin Olvera, John C. Fremont, and Andres Pico)
1847: Governor, Executive Department of California [Military Governor]
1856: Candidate for President of the United States (Lost)
1878-1881: Governor of Arizona Territory
Jessie Benton was the daughter of US Senator Thomas Hart Benton [D-MO]. Not a fan of his son-in-law, Senator Benton supported James Buchanan over his son-in-law in the 1856 Presidential election.
High Rank: Major General (United States Army)
PLACENAME: In addition to having both a City (in Alameda County) and Town (in San Bernardino County) named for Fremont, California is also home to Fremont Peak, Fremont Park, 15 Elementary Schools, 3 Middle Schools, 2 High Schools, 5 city parks named for the Senator.
PLACENAME: Fremont Street in San Francisco is named for this individual. [Source:

The Beginnings of San Francisco

by Zoeth Skinner Eldredge (1912). Online at sfgenealogy.com]
PLACENAME: John C. Fremont Hospital is located in Mariposa County.
PLACENAME: The Jesse B. Fremont Community Day School (Mariposa, CA) closed in 2010.
The USS John C. Fremont (APA-44) was a Liberty Ship in the U.S. Navy from 1943 to 1969.
Source: California's Stately Hall of Fame by Rockwell D. Hunt (1950)
Source: "Biographical Directory of the United States Congress, 1774-Present" (U.S. Library of Congress) [http://bioguide.congress.gov/]
Source: History of California, Volume 23 by Hubert Howe Bancroft (San Francisco; History Co., 1888)