Edward D. Baker
Republican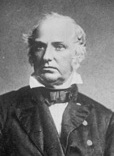 Library of Congress
Candidate Biography:
Edward Dickinson Baker
Born: February 24, 1811 in London, England
Married: Mary Ann Lee
Children: Samuel, Caroline C., Lucy, Alfred W., and Edward Dickinson Jr.
Military Service: ARMY (Black Hawk War, Mexican-American War, Civil War)
Killed: October 21, 1861 in Loudoun County, Virginia [Confederate States of America]
1837-1840: Representative, Illinois State Legislature
1840-1844: Senator, Illinois State Legislature
1845-1947: Member, United States House of Representatives [Illinois] (Whig)
1849-1951: Member, United States House of Representatives [Illinois] (Whig)
1860-1861: Member, United States Senate [Oregon] (Republican)
"Baker was killed in the Battle of Ball's Bluff while leading a Union Army regiment, becoming the only sitting senator to be killed in the Civil War." - Source: Wikipedia
NOTABLE HONOR: In 1846, Abraham Lincoln named his second son Edward Baker Lincoln in honor of Baker. Eddie died in 1850 at age 3.
NOTABLE ATTORNEY: Oscar T. Shuck's first edition of

The Bench and Bar of California

(1887) uses twelve of the thirteen chapters to relate the biography of a notable California attorney. Baker is one of the twelve.
PLACENAME: Baker Street in San Francisco is named for this individual. [Source:

The Beginnings of San Francisco

by Zoeth Skinner Eldredge (1912). Online at sfgenealogy.com]
PLACENAME: Under orders from Colonel Francis J. Lippitt, a Fort Baker was established by the U.S. Army's in Humboldt County in 1862. It closed in 1863. A second Fort Baker was established in Marin County in 1897.
Source: Forts of the West by Robert W. Frazer (1965)
Source: California's Stately Hall of Fame by Rockwell D. Hunt (1950)
Source: "Biographical Directory of the United States Congress, 1774-Present" (U.S. Library of Congress) [http://bioguide.congress.gov/]