B. D. Wilson
Independent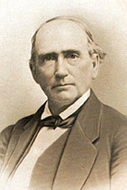 Wikipedia
Candidate Biography:
Benjamin Davis "Don Benito" Wilson
Born: December 1, 1811 in Wilson County, Tennessee
Married: Ramona Yorba (m. 1844, d. 1849), Margaret Hereford
Child: Four daughters (including Ruth who married George S. Patton Sr.)
Died: March 11, 1878 at Lake Vinyard in Los Angeles, CA
1844-184?: Justice of the Peace, California's Inland Territory (Riverside County area)
1851-1852: Mayor, City of Los Angeles
Previous: Member, Los Angeles County Board of Supervisors
1854: Founder, City of San Gabriel
1859: Founder, City of Riverside
1874: Founder, Indiana Colony (later renamed Pasadena, CA)
In 1861, Wilson and Phineas Banning donated the land used to build Drum Barracks (Union Army headquarters for California and Arizona during the Civil War).
Wilson was the grandfather of General George S. Patton Jr., World War II commander and name-sake for the Patton tank.

PLACENAME: Mount Wilson, the highest of the San Gabriel Mountains, is named for Mayor Wilson. Wilson led the first "white man's expedition" up the mountain.
PLACENAME: Don Benito Fundamental School in Pasadena is named for Wilson.
Source: History of Political Conventions in California, 1849-1892 by Winfield J. Davis (1893)
Source: Legislative Guide... of all the State Officers and Members of the Legislature... by Kean & Dudley (H.S. Crocker and Co.; 1871)