George S. Patton
Democratic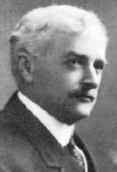 da.co.la.ca.us
| Date | Party | Office | Votes | Result |
| --- | --- | --- | --- | --- |
| 11-06-1894 | Democratic | CD-06 | 11693 | Loss |
| 11-07-1916 | Democratic | Senate1 | 277852 | Loss |
Candidate Biography:
George Smith Patton Sr.
Birthname: George William Patton (changed in 1868)
Born: September 30, 1856 in Charleston, Virginia [now West Virginia]
Married: Ruth Wilson (Daughter of B. D. Wilson)
Children: George Jr. and Anne
Died: June 10, 1927 in Lake Vinyard, CA
1877: City Attorney, City of Pasadena
1886-1887: District Attorney, Los Angeles County
1920s: Mayor, City of San Marino
Patton's father was CSA Colonel George S. Patton who died during the Civil War. His son was General George S. Patton Jr., served as a major US Army commander during World War II. His grandson, Major General George Patton IV, who served in the Korean War and Vietnam War.
PLACENAME: George S. Patton Continuation High School, located in Harbor City, is named for the Army General, not the District Attorney. There is also a Patton Elementary in Garden Grove, CA.