Pearce Young
Democratic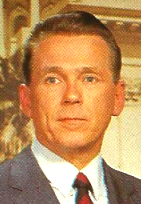 Candidate Biography:
Born: December 24, 1918 in Modesto, CA
Military Service: ARMY (WWII)
Died: July 1984 in Los Angeles, CA
1951: Fulbright Scholar, Oxford University
19??: Rhodes Scholar
Previous: Prosecutor, Alameda County District Attorney's Office
Previous: Assistant County Counsel, Napa County
1960s: Chair, California Arts Council
1966: Resigned from the State Assembly on December 19.
1966-1977: Justice, Los Angeles Superior Court
"He served his County with devotion and honor as a flying officer in the Air Force Asiatic Pacific Theatre during World War II"
Source: California Blue Book (1963)