Charles M. Shortridge
Republican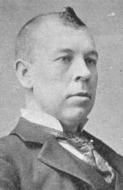 ark.cdlib.org
Candidate Biography:
Charles Morris Shortridge
Born: August 24, 1857 in Mount Pleasant, Iowa
Children: Gloria J. Shortridge
Married: Adele McLeod (in 1881), Elizabeth Wright (in 1899), Delmas Walter Martin (in 1908)
Children: Vesta, Charles Jr., Clara May and Gloria J. Shortridge
Family: Brother of US Senator Samuel M. Shortridge
Died: June 30, 1918 in Berkeley, CA
1875-1883: Staff, San Jose Daily Mercury
1884-1898: Editor and Proprietor, San Jose Daily and Weekly Mercury (purchased paper from J. J. Owen)
1895-189?: Manager, San Francisco Call
1901: Building and Loan Commissioner
1906: Attempts to buy the San Jose Mercury News from Hayes brothers (E. A. Hayes).
LEGISLATION: Authored a bill (which passed the legislature), naming San Jose the new state capitol (it was vetoed).
The Clara Shortridge Foltz Criminal Justice Center, in downtown Los Angeles, was named for Senator Shortridge's sister Clara who was the first woman admitted to the California bar and the first female clerk for the Assembly Judiciary Committee. The Foltz Criminal Justice Center was the location of the Richard Ramirez, O.J. Simpson, and Phil Spector murder trials.
Source: California Blue Book (1903)