Marshall Black
Republican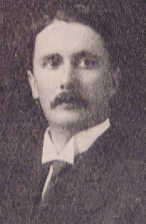 California Blue Book (1907)
Candidate Biography:
Born: February 19, 1870 in Lewis Center, Ohio
Married: Ray Miller (in 1893)
Children: Helen, Winifred, Rachel, Marshal Jr., Milton M., and Robert
Died: March 26, 1934 in San Francisco, CA
1897: General Clerk, California State Assembly
1913: Recalled from the State Senate on January 2nd
LEGISLATION: Black was the Author of the legislation (1911) which gave California voters the ability to recall city elected officials.
LEGISLATION: Black (with Assemblyman William C. Clark) was the author of AB 735, AB 788, and AB 789 (1911) which were the first natural resources conservation laws passed by the California legislature.
In 1913, Marshall Black was the first elected office-holder to be successfully recalled. His recall was motivated by an indictment (and later conviction) for embezzlement of funds [SOURCE]. In one of the best ironies in California political history, Senator Black was a proponent of the initiative process and it was he, who introduced legislation in 1911 that gave the rights of Initiative, Referendum and Recall to small municipalities.
LEGAL TROUBLES: Black was convicted of embezzling $140,000 from the Palo Alto Building and Loan Association and served three years and four months at San Quentin.
Source: California Blue Book (1903), (1907), (1909), (1911)
Source: The "Old Northwest" Genealogical Quarterly, Volume XII, by "Old Northwest" Genealogical Society (July 1909)
Source: "Former Senator is Claimed by Death," San Bernardino Sun (3/28/1934)