Brian Nestande
Republican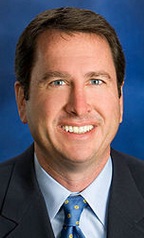 CalChannel
Candidate Biography:
Born: January 10, 1969 in Newport Beach, CA
Married: Sabrina, Gina
Children: Four daughters and three sons
Family: Son of Bruce Nestande
1992: Deputy Campaign Manager, Michael Huffington for Congress
1993-1994: Field Representative, Congressman Michael Huffington
1994: Campaign Manager, Sonny Bono for Congress
1995-1997: Chief of Staff, Congressman Sonny Bono
1997: Campaign Manager, Mary Bono for Congress
1998-2000: Chief of Staff, Congresswoman Mary Bono
2010-2012: Minority Caucus Chair, California State Assembly
2015-Present: Deputy County Executive, Riverside County
Be Fruitful and Multiply: Nestande has seven children.
Bills: During his time in the Legislature, Nestande introduced 82 regular session bills, of which 14 were signed into law.
Gina is a 2016 Delegate to the Republican National Convention.
Source: California Legislature Handbook (2009-10)