Joe C. Lewis
Democratic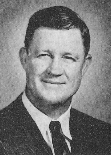 CA Blue Book
Candidate Biography:
Born: December 14, 1905 in Oklahoma
Married: Juanita Carney (in 1934), Cly
Children: Patricia Falletti, Dixie Chantler, Phyllis Griscom and John Atha
Died: September 1, 1986 in California
1962: Primary Candidate for Secretary of State (Lost)
According to his obituary in the Fresno Bee (9/20/1986); "When asked on the floor of the Assembly if someone could be a loyal American and a communist, he replied yes. He pointed out that he was not a communist but, he said, "My sympathy always is for the underdog. I think it is unjust to condemn anyone for hearsay evidence." He was censured by the Kern County Democratic Central Committee for showing his sympathy for three University of Washington professors who were dismissed because they admitted being communists."
Source: California Blue Book (1950)