Gavin Newsom
Democratic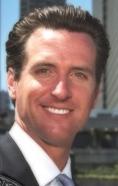 sfmayor.org
| Date | Party | Office | Votes | Result |
| --- | --- | --- | --- | --- |
| 11-02-2010 | Democratic | Lieutenant Governor | 4918158 | Win |
| 11-04-2014 | Democratic | Lieutenant Governor | 4107051 | Win |
| 11-06-2018 | Democratic | Governor | 7721410 | Win |
Candidate Biography:
Gavin Christopher Newsom
Born: October 10, 1967 in San Francisco, CA
Married: Kimberly Guilfoyle (m. 2001, div. 2006), Jennifer Siebel (m. 2008)
Child: Montana Tessa Siebel Newsom, Hunter Siebel Newsom, Brooklynn, and Dutch William Siebel Newsom
Family: Son of William A. Newsom
1995: Volunteer, Willie Brown for Mayor campaign
1996-1997: Member, San Francisco's Parking and Traffic Commission
1997-2004: Member, San Francisco County Board of Supervisors
2004-2011: Mayor, City of San Francisco
2010: Early Primary Candidate for Governor (Withdrew)
2012: Delegate, Democratic National Convention
2016: Delegate, Democratic National Convention
Newsom remained in office as Mayor until early January, past the start of his term as Lieutenant Governor, in order to play a part in the selection of San Francisco's new Mayor.
Small Screen: Newsom began hosting a TV show "The Gavin Newsom Show" in May 2012. The show aired on Current TV, a cable channel co-founded by Al Gore.
Newsom's fourth child, Dutch, was named for Dutch Flat, where Newsom spent much of his childhood. Dutch Flat was named for Charles Dornbach, whose camp was originally known as "Dutch Charlie's Flat."
In 2019, Newsom was the target of an attempted recall led by Erin Cruz. The recall failed to qualify for the ballot.
Source: "Newsom's latest exit date: Jan. 10" by John Coté, San Francisco Chronicle (1/1/2011)
Source: "Calif. Lt. Gov. Gavin Newsom gets Current TV gig" by Lisa Leff, Associated Press (4/18/2012)