Willie Brown
Democratic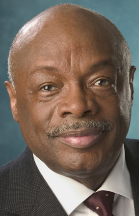 Candidate Biography:
Willie Lewis Brown, Jr.
Born: March 20, 1934 in Mineola, Texas
Married: Blanche Vitero (m. 1958)
Children: Susan Elizabeth, Robin Elaine, Michael Elliott and Sydney Minetta
1973-1979: Fellow, Crown College at UC Santa Cruz
1979-1981: Majority Leader, California State Assembly
1980-1981: Member, Regents of the University of California
1981-1995: Speaker, California State Assembly
1982: Primary Candidate for SBOE-1 (Lost; 8.8%)
1995: Majority Leader, California State Assembly
1995: Minority Leader, California State Assembly
1995: Resigned from the State Assembly on December 14.
1996–2004: Mayor, City of San Francisco
2004-Present: Chairman and CEO, Willie L. Brown Jr. Institute on Politics and Public Service
2007-Present: Member, NAACP National Board of Directors
2016: Delegate, Democratic National Convention
LEGISLATIVE HISTORY: The only member of the Assembly to receive the title "Speaker Emeritus". Also the only person to be Speaker, Majority Leader, and Minority Leader in the same session.
Speakership Tenure: Jesse Unruh was California's longest-serving Assembly Speaker from 1966 (when he surpassed Sam Collins until 1987, when Willie Brown surpassed him.
PLACENAME: The Western Span of the San Francisco Bay Bridge has been officially designated the "Willie L. Brown Jr. Bridge" by ACR 65 (2013) authored by Assemblyman Isadore Hall.
PLACENAME: The Willie Brown Jr. Middle School, a "$55 million, 88,000-square-foot high-tech school" is located in San Francisco. It is at the same location as the Willie Brown College Preparatory Academy which closed in 2011 and was demolished in 2012.
PLACENAME: At the State Capitol, Room 223 has been named the Willie Brown Conference Room (in 200?).
PLACENAME: The Willie L. Brown, Jr. Leadership Center is located at San Francisco State University.
PLACENAME: S
Current Legislation: SCR 31 (2019) by Senator Steven Bradford named the traffic circle between the Jesse Unruh Treasury Building and Library and Courts Building as the Willie L. Brown, Jr. Circle and Plaza.
LEGISLATIVE HISTORY: Brown was elected Assembly Speaker with 80 votes in 1984 and 1986, the only times in the last 100 years this has happened. Between 2000 and 2010, the election of the Assembly Speaker was done by voice vote.
QUOTABLE: A quote by Brown about his experience negotiating with Republicans: "Never make deals with Republicans that screw Democrats. Make deals with Republicans that screw Republicans... Any time they've ever dealt with me, when they have left the table, they have left most of what they came with on the table. And I have left with everything I came with and what they left. That's the way you deal with Republicans."
In 1965, Brown was the target of an attempted recall led by Terry R. Macken. The recall failed to qualify for the ballot.
Source: California Blue Book (1967), (1971)
Source: California Assembly Handbook (1996)