Jesse M. Unruh
Democratic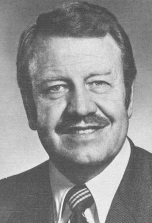 CA Blue Book (1975)
Candidate Biography:
Born: September 30, 1922 in Newton, Kansas
Married: Virginia June Lemon ​(m. 1943, div. 1975), Chris Edwards (m. 1986)
Children: Bruce, Bradley, Robert, Randall, and Linda Lu
University: University of Southern California (BA; Political Science and Journalism, 1948)
Military Service: USN (WWII)
Died (in office): August 4, 1987 in Marina Del Rey, CA
1948: Primary Candidate for AD-60 (Lost)
1952: Campaign Staff, Frank F. Mankiewicz for Assembly campaign
1960: Delegate, Democratic National Convention
1961-1969: Speaker, California State Assembly
1968: Delegate, Democratic National Convention
1969: Minority Leader, California State Assembly
1973: Candidate for Mayor of Los Angeles (Lost)
LOCKDOWN: In November 1967, Unruh locked in the State Assembly for a 12 hour long session to force votes on a bill to prevent a decrease in Medi-Cal benefits.
LOCKDOWN: In July 1963, Unruh used a legislative lockdown to force opposing lawmakers to change their vote. This lockdown lasted 22 hours and 50 minutes (total session time of 26.5 hours). A lock-in had previously been used in 1911 by Senate Pro Tem A. E. Boynton.
MOST VOTES: In the 1986 General Election, Unruh was elected Controller with 5,589,633 votes, becoming the California constitutional officer to receive the highest number of votes up to that point. Unruh would hold the record until the 2018 General Election, Betty T. Yee was reelected Controller with 8,013,067 votes.
Speakership Tenure: Unruh was California's longest-serving Assembly Speaker from 1966 (when he surpassed Sam Collins until 1987, when Willie Brown surpassed him. In June 2023, Anthony Rendon surpassed him as well, making Unruh the third-longest-serving Speaker in California history.
IN HIS HONOR: In 1987, the California State Assembly Fellowship Program was renamed the Jesse M. Unruh Assembly Fellowship Program.
PLACENAME: The Unruh Institute of Politics at the University of Southern California. The Jesse Unruh State Office Building is located in Sacramento. The Unruh Assembly Hearing Room is located in the State Capitol.
FAMILY: Linda Unruh worked in Willie Brown's Los Angeles District office while he was Speaker.
FAMILY: Randall Unruh founded flimflam.com in 1989 to help expose fraud and deceptive marketing practices to protect consumers.
Source: California Blue Book (1958), (1961), (1967)
Source: California Legislature Handbook (1969)
Source: A Disorderly House: The Brown-Unruh Years in Sacramento
by James R. Mills (Heyday Books; 1987)