Andy Vidak
Republican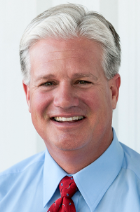 vidakforsenate.com
Candidate Biography:
James Andrew Vidak
Born: November 13, 1965 in Visalia, CA
Family: Son of Jim Vidak (Tulare County Superintendent of Schools, 2015-2018)
GOOD DEED: On March 28, 2016, Vidak stepped out onto J Street (at 33rd) in Sacramento to stop traffic when he observed a large tree beginning to fall across the road. One driver, who stopped when she saw Vidak, managed to stop in time and was not injured when the tree fell on the front end of her vehicle.
QUOTABLE: Days after the 2018 General Election, trailing Melissa Hurtado by 3,000 votes, Vidak said "It's been an honor and we've done a bunch of great things, but if Melissa is indeed elected I wish her all the best. It's a great district." (Bakersfield.com)
LEGISLATION: After several sexual harassment allegations were made against Senator Tony Mendoza, Senator Vidak introduced Senate Resolution 69 (2018), which would expel Mendoza "from the California State Senate for violating the Senate Standards of Conduct."
Source: "Vidak, trailing by 3,000-plus votes, philosophical as final ballots trickle in" by Robert Price, Bakersfield.com (11/8/2018)