Tony Mendoza
Democratic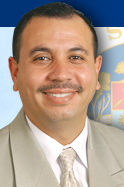 CA Assembly
Candidate Biography:
Antonio Mendoza
Born: April 22, 1971 in South Los Angeles, CA
Married: Leticia "Letty"
Children: Samantha, Anndrea, and Annais
1997-2006: Member, Artesia City Council
2006: Member, Hubert H. Humphrey Democratic Club
2006: Member, United Teachers Los Angeles Board of Directors
2006: Representative, California Teachers Association
2010-2012: Chair, California Latino Legislative Caucus
2012: Delegate, Democratic National Convention
2012: Candidate for Central Basin Municipal Water District Board (Lost; 37.2%)
LEGISLATION: Author of SB 432 (2015), which repealed the definition of the word "alien" from the California Labor Code. Previously, the term was defined as "any person who is not a born or fully naturalized citizen of the United States."
LEGISLATION: Coauthor of SR 39 (2015) which found that "Presidential candidates including Donald Trump have unfairly demonized and falsely blamed undocumented immigrant families for a range of problems and challenges facing the United States" and "calls upon the State of California to divest from" and "private businesses and individuals throughout California to end all business ties with" Donald Trump and his companies.
Source: California Legislature Handbook (2007-08)