Kevin de Leon
Democratic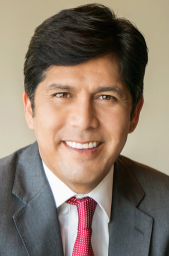 kevindeleon.com
Candidate Biography:
Born: December 10, 1966 in San Diego, CA
Child: Lluvia
Previous: Senior Associate, National Education Association (NEA)
Previous: Human Rights Advocate, California Teachers Association (CTA)
2010-2014: Majority Caucus Chair, California State Senate
2012: Delegate, Democratic National Convention
2014-2018: President pro Tempore, California State Senate
2016: Delegate, Democratic National Convention
2020-Present: Member, Los Angeles City Council
2020: Proponent, Proposition 21 [Expand Rent Control Authority for Local Governments] (Failed; 40.1%)
2022: Primary Candidate for Mayor of Los Angeles (Lost; 7.5%)
LEGISLATION: Author of SB 1234 (2016) which requires all California companies with at least five employees to either offer their own retirement savings plan or enroll workers in the new California Secure Choice Retirement Savings Program.
LEGISLATION: Coauthor of SR 39 (2015) which found that "Presidential candidates including Donald Trump have unfairly demonized and falsely blamed undocumented immigrant families for a range of problems and challenges facing the United States" and "calls upon the State of California to divest from" and "private businesses and individuals throughout California to end all business ties with" Trump and his companies.
LEGISLATION: Author of SR 16 (2017) which noted that President Donald J. Trump had displayed "immoral callousness", that his signing of an Executive Order "desecrates our American values and panders to fears and nativist instincts that have resulted in some of our nation's most shameful acts" and that it was "an insult to the six million Jews who were exterminated by the Nazis."
Source: California Legislature Handbook (2007-08)