Rita Topalian
Republican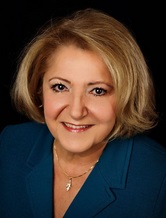 Candidate Biography:
Born: August 20, 1946 in Germany
Married: Misak (m. 1965)
Children: Three
SENATE VACANCY: Following the resignation of State Senator Tony Mendoza, the special primary to fill the vacancy in the current term (which would end in November 2018) was consolidated with the regular primary election for the new full term (which would start in December 2018). During the elections on June 5th, Rita Topalian (R) took the took the top stop in both the primary and the special primary. Vanessa Delgado (D) came in second in the special election (and will be in the run-off), but came in third in the primary, meaning that she will not appear on the November ballot. Bob Archuletta(D) came in fourth place in the special election (after Topalian, Delgado and Mendoza) but second in the regular primary (meaning that he will appear on the November ballot. Mendoza came in fourth in the regular primary and third in the special election.