Holly J. Mitchell
Democratic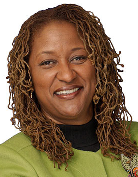 Candidate Biography:
Born: September 7, 1964 in Los Angeles, CA
Child: Ryan J. Mitchell
Previous: Fellow, CORO Fellows Program
Previous: Staff, State Senator Diane Watson
1990s: Policy Analyst, State Senate Health and Human Services Committee
2006-2007: Chair, California Commission on the Status of Women
2005-2010: Member, Los Angeles Commission for Children, Youth and their Families
2013: Resigned from the State Assembly on September 26.
2016: Delegate, Democratic National Convention
2020: Resigned from the State Senate on December 6.
2020-Present: Member, Los Angeles County Board of Supervisors
LEGISLATION: Author of SB 443 (2015) which would limit the ability of California law enforcement to use federal asset forfeiture laws to seize and keep money and other assets that are believed to be the proceeds of illegal activity.
LEGISLATION: Coauthor of SR 39 (2015) which found that "Presidential candidates including Donald Trump have unfairly demonized and falsely blamed undocumented immigrant families for a range of problems and challenges facing the United States" and "calls upon the State of California to divest from" and "private businesses and individuals throughout California to end all business ties with" Donald Trump and his companies.
Source: "New lawmakers descend on the Capitol" by Torey Van Oot, Sacramento Bee (December 5, 2010)
Source: "Bill that would rein in asset seizures by police advances in the Assembly" by Melanie Mason, Los Angeles Times (7/14/2015)