Chad Mayes
No Party Preference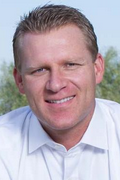 Candidate Biography:
Chad Jeffrey Mayes
Born: April 23, 1977 in Lebanon, Pennsylvania
Married: Shanon (m. ~2001, div. 2018), Dr. Andis Almasi (m. 2021)
Child: Mila

2002-2011: Member, Yucca Valley Town Council
2000s: Co-Founder, Morongo Basin Lincoln Club
2010: Mayor, Town of Yucca Valley
2010-2014: Chief of Staff, San Bernardino County Supervisor Janice Rutherford
2016-2017: Minority Leader, California State Assembly
2019: While serving in the State Assembly, changed party affiliation mid-term from Republican to No Party Preference on December 5th.
Dr. Andis Almasi was a 2023 Woman of the Year (47th Assembly District) [selected by Greg Wallis].
Mayes was elected Assembly Minority Leader on September 1, 2015; 274 days after being sworn into office as an Assemblymember. He assumed that office on January 1, 2016.
On January 24, 2019, Mayes tweeted "Mark my words: If Travis Allen becomes Chairman of the California Republican Party, more sitting legislators will leave @CAGOP. Winning in politics requires addition. Demagoguery and division proves to be a losing strategy." [Source]
In December 2019, Mayes changed his party affiliation from Republican to 'No Party Preference'.
LEGISLATION: Author of HR 7 (Res. Chapt. 1, Stats of 2021), which finds that "President Donald J. Trump's actions incited a deadly insurrection that attempted to prevent the peaceful transfer of power at the United States Congress on January 6, 2021" and "calls for President Donald J. Trump to resign", for the invocation the 25th Amendment, or for Congress to impeach President Trump.
Source: California Assembly Handbook (2015)