Chad Mayes
No Party Preference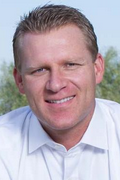 Candidate Biography:
Chad Jeffrey Mayes
Born: April 23, 1977 in Lebanon, Pennsylvania
Married: Shanon (m. ~2001, div. 2018)

2002-2011: Member, Yucca Valley Town Council
2000s: Co-Founder, Morongo Basin Lincoln Club
2010: Mayor, Town of Yucca Valley
2010-2014: Chief of Staff, San Bernardino County Supervisor Janice Rutherford
2016-2017: Minority Leader, California State Assembly
2019: While serving in the State Assembly, changed party affiliation mid-term from Republican to No Party Preference on December 5th.
Mayes was elected Assembly Minority Leader on September 1, 2015; 274 days after being sworn into office as an Assemblymember. He assumed that office on January 1, 2016.
On January 24, 2019, Mayes tweeted "Mark my words: If Travis Allen becomes Chairman of the California Republican Party, more sitting legislators will leave @CAGOP. Winning in politics requires addition. Demagoguery and division proves to be a losing strategy." [Source]
In December 2019, Mayes changed his party affiliation from Republican to 'No Party Preference'.
Source: California Assembly Handbook (2015)