Sydney Kamlager
Democratic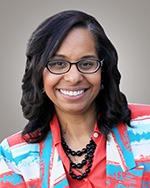 laccd.edu
Candidate Biography:
Sydney Kai Kamlager-Dove
Born: July 20, 1972 in California
Married: (m. 2006)
University: University of Southern California (BA)
2013-2018: District Director, State Senator Holly J. Mitchell
2015-2018: Member, Los Angeles Community College District Board of Directors
2016: Member, Los Angeles County Commission for Children and Families
2021: Resigned from the State Assembly on March 11.
NAMING CONVENTION: In the April 2018 special election, she was elected with the name "Sydney K. Kamlager" appearing on the ballot. When she assumed office her website and correspondence used the name "Sydney Kamlager-Dove" until mid-January 2020 when she changed it to "Sydney Kamlager." She appeared on the 2020 Primary ballot as Sydney Kamlager.
QUOTABLE: Following the failure of ACA 3 (2022) on the Senate Floor (21-6 with 13 abstentions), Kamlager tweeted "The CA State Senate just reaffirmed its commitment to keeping slavery and involuntary servitude in the state's constitution. Way to go, Confederates". ACA 3 would have placed a constitutional amendment on the ballot to ban all forms of involuntary servitude.