Robert Rivas
Democratic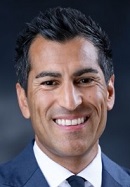 rivasforassembly.com
Candidate Biography:
Robert A. Rivas
Born: January 2, 1980 in Henderson, Nevada
Married: Christen
Child: Melina
University: San Jose State University (MPA)
2003-2006: Field Representative, Assemblyman Simon Salinas
2006-2008: District Director, Assemblymember Anna Caballero
2008-2010: Senior Clerk, Monterey County Board of Supervisors
2010-2018: Member, San Benito County Board of Supervisors
2022-2023: Speaker-designee, California State Assembly
2023-Present: Speaker, California State Assembly
Rivas is the first legislator from San Benito County since Peter Frusetta termed out in 2000. He also appears to be the first San Benito County Supervisor to be elected to the legislature since State Senator Thomas Flint Jr. in 1901-1904.
White Pineapple Incident: On May 27, 2022, Rivas announced that he had "received the necessary support of the Democratic Caucus to become the next Speaker of the Assembly." On May 31st, the Assembly spent six hours recessed so that members of the Democratic Caucus could meet. At the end of the day, Rivas released a statement saying that "I agree with the majority of our current caucus that Speaker Rendon should remain as Speaker for at least the rest of this legislative session." Rendon assumed office as Speaker on June 30, 2023 (ending one of the longest transition periods in legislative history).