Tallant Tubbs
Republican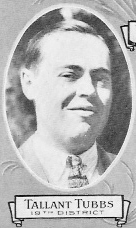 CA Blue Book
Candidate Biography:
Born: May 8, 1897 in San Francisco, CA
Married: Olivia Pillsbury Gibson (m. 1931, div. 1937)
Military Service: ARMY (WWI), USMC (WWII)
Family: Grandson of A. L. Tubbs
Died: May 15, 1969 in San Francisco, CA
1930: [Prohibition] Primary Candidate for Lieutenant Governor (Lost)
1937: Member, Golden Gate International Exposition Commission
Tallant Tubbs was named for his two grandfathers; D. J. Tallant (maternal) and A. L. Tubbs (paternal).
Tubbs was elected the State Senate at age 24.
PLACENAME: Tubbs Lane in Calistoga, is named for the Tubbs family.
The 2017 Tubbs Fire in Napa, Sonoma, and Lake counties, was the most destructive wildfire in California history up to that point (it has since been passed by the Camp Fire of 2018) burning 36,810 acres, causing $1.2 billion in damage and killing 22.. The fire's name came from the ignition point, which was near Tubbs Lane in Calistoga (see above).
Tubbs sponsored a semi-pro baseball team, called the "Tubbs Senators" or "Tallant Tubbs" of the Golden Gate Valley League between 1931 and 1937.
Source: California Blue Book (1928)