Tallant Tubbs
Republican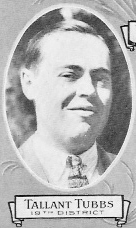 CA Blue Book
Candidate Biography:
Born: May 8, 1897 in San Francisco, CA
Military Service: ARMY (WWI)
Family: Grandson of A. L. Tubbs
1930: [Prohibition] Primary Candidate for Lieutenant Governor (Lost)
Tallant Tubbs was named for his two grandfathers; D. J. Tallant (maternal) and A. L. Tubbs (paternal).
Tubbs was elected the State Senate at age 24.
PLACENAME: Tubbs Lane in Calistoga, is named for the Tubbs family.
Source: California Blue Book (1928)