Ernie Konnyu
Republican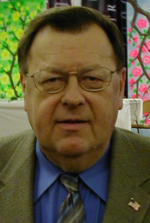 Candidate Biography:
Ernest Leslie Konnyu
Born: May 17, 1937 in Tamasi, Hungary
Married: Lillian Muenks Konnyu
Children: Carol, Renata, Lisa and Vickie
Military Service: USAF
Previous: President, Saratoga-West Valley Republican Assembly
1988: Primary Candidate for CD-12 (Lost; 41.9%)*
1994: Candidate for Santa Clara County Assessor (Lost)
2009: Organizer of an attempted recall against State Senator Abel Maldonado
In 1987, two former aides complained of sexual harassment. Following a series of articles in the San Jose Mercury News, Tom Campbell beat Konnyu in the primary and went on to win the seat in November.
NOTE: An incumbent who lost their party primary (in 1988).