Paul T. Bannai
Republican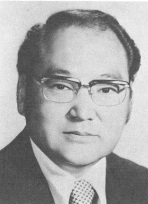 CA Blue Book (1975)
Candidate Biography:
Born: July 4, 1920 in Delta, Colorado
Married: Hideko Matsuno (in 1946)
Children: Kathryn, Don, and Lorraine
Died: September 14, 2019
Previous: Member, Gardenia Planning Commission
Previous: Member, Gardenia City Council
1980: Director, Commission on Wartime Relocation and Internment of Civilians
1981-1985: Chief Memorial Affairs Director, National Cemetery System, Veterans Administration
First Japanese American elected to the State of California legislature.
Bannai and his family were sent to the Japanese internment camp at Lone Pine during World War II.
UNACKNOWLEDGED API: This elected official was excluded from the "History of Asian Americans in the California Legislature" by the California Asian Pacific Islander Legislative Caucus (Source).
Source: California Blue Book (1975)