John H. Webster
Libertarian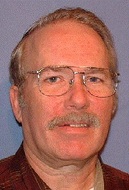 Candidate Biography:
Born: March, 22, 1945 in Los Angeles, CA
Married: Pamela (div. 1978)
Children: Lisa Ann and Andrew Jason
Military Service: NAVY (Vietnam)
2004: Primary Candidate for SD-13 (Lost; 49.6%)*
2006: Candidate for Mountain View City Council (Lost; 9.2%)
2012: Primary Candidate for SD-13 (Lost; 15.4%)
CLOSE CONTEST: Webster narrowly lost a spot in the 2004 General election when he was defeated by Michael Laursen by 2 votes (0.4%).
LEGAL TROUBLES: Webster was arrested on March 9, 1990, during a sting operation conducted by the San Jose Police Department and the US Postal Inspection Service. Webster would later be charged with three counts of "Offering to provide children to another for lude and lascivious acts". In August 1990, Webster pleaded guilty.