Gloria Molina
Democratic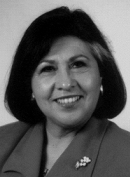 molina.co.la.ca.us
Candidate Biography:
Born: May 31, 1948 in Montebello, CA
Married: Ron Martinez
Child: Valentina
1970s: Staff, Office of Presidential Personnel, President Jimmy Carter
Previous: Reg. Director, Intergovernmental and Congressional Affairs, US Department of Health and Human Services
1980s: Los Angeles District Staff, Assembly Speaker Willie Brown
1987: Resigned from the State Assembly on February 27.
1987-1991: Member, Los Angeles City Council
1991-2014: Member, Los Angeles County Board of Supervisors
2015: Candidate for Los Angeles City Council (Lost; 23.9%)
On March 14, 2023, Molina announced that she had been fighting cancer for three years, but that it had become very aggressive and would be terminal.