Larry Bowler
Republican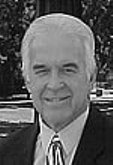 voteyesmarriage.com
Candidate Biography:
Born: July 30, 1939 in Sacramento, CA
Married: Melva (in 1973)
Children: Kimberly, Darren, and Monica
Military Service: USN
Previous: Lieutenant, Sacramento County Sheriff's Department (30 years)
Previous: President, Northern California Detention and Corrections Association
1995: Bowler led the effort to recall State Assemblyman Michael J. Machado.
LEGISLATION: Author, Proposition 184 (1994), which created the Three-strikes Law for repeat offenders.
LEGISLATION: Bowler authored legislation that prohibited possession of the drugs Rohypnol and GHB.
In a 1996 Los Angeles Times article, Bowler said that he occasionally carried a concealed semiautomatic .380-caliber handgun onto the Assembly floor during legislative sessions.
Bowler was a proponent for Initiative 07-0020 (The Voters' Right to Protect Marriage Initiative (to eliminate Domestic Partnership rights), which "provides that only marriage between a man and a woman is valid or recognized in California."
Source: California Legislature Handbook (1994)