Michael J. Machado
Democratic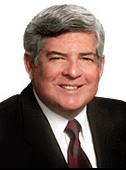 CA Blue Book 2000
Candidate Biography:
Born: March 12, 1948 in Stockton, CA
Married: Diana
Children: Erahm John, Melissa Rose, and Christopher Michael*
Military Service: USN (Vietnam)
Previous: President, San Joaquin Farm Bureau
1995: Recall Election of Assemblyman Machado in AD-17 (Failed; 37.0%)
2009-Present: Member, State Compensation Insurance Fund
2009-Present: Community Outreach organizer, Federal Prison Healthcare Receiver
Chris Machado died in a farm accident in 1998.
The Machado School Violence and Prevention Response Act of 1999 was named by SB 711 (1999).
LEGISLATION: Author of SB 1226 (2004) which designated "purple needlegrass," or Nassella pulchra, as the official State Grass.
In 1994, Machado was the target of a recall led by Larry Bowler, Dean Andal and 62 others. The recall qualified for the ballot but failed (37.02% in favor; 62.98% opposed).
Source: California Blue Book (2000)