Wanda Sankary
Democratic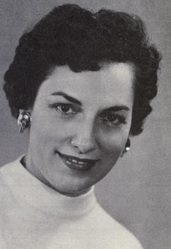 archive.org
| Date | Party | Office | Votes | Result |
| --- | --- | --- | --- | --- |
| 11-02-1954 | Democratic | AD-79 | 28918 | Win |
| 11-06-1956 | Democratic | AD-79 | 35129 | Loss |
Candidate Biography:
Wanda Young Sankary
Born: December 22, 1919 near Scranton, North Dakota
Married: Allen Young (m. 1942, d. 1943), Morris Sankary (m. 1952, div. 1972)
Child: Timothy and Ronald
University: University of Southern California (L.L.B., 1950)
Died: September 2, 2005 in San Diego, CA
Sankary gave birth to her first child on the night she was elected to the Assembly (in 1954). It would be another 40 years before Jackie Speier became the first member of the California Legislature to give birth while in office.
Sankary herself was born in a sod house on the prairie in North Dakota. Her father was working in a coal mine and at the time of her birth, Sankary's mother was alone at their home with five children.
CLOSE CONTEST: Sankary narrowly won the 1954 General election when she defeated Schneider by 437 votes (0.8%).
QUOTABLE: "There are approximately seven million women in California and I feel that as one of the three women legislators I should be concerned with the welfare of women."
Source: "Wanda Sankary; first female lawyer in state Assembly" by Jack Williams, San Diego Union Tribune (10/9/2005)
Source: From sod house to State House : oral history transcript (1977-1979); Bancroft Library. Regional Oral History Office [LINK]