Carl L. Christensen Jr.
Democratic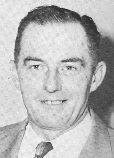 CA Blue Book (1961)
Candidate Biography:
Born: November 4, 1907
Married.
Children: Twin sons
Military Service: USN (WWII)
Died: September 6, 1976
1947-1949: District Attorney, Humboldt County
1949-1956: Justice, Humboldt County Superior Court
PLACENAME: The "Humboldt Bay Bridge" on State Route 255 is actually made up of three smaller bridges. Bridge 04-229 (Middle Channel) was named the "Carl L. Christensen Memorial Bridge" in 1977.
Source: California Blue Book (1958), (1963)