Peter F. Schabarum
Republican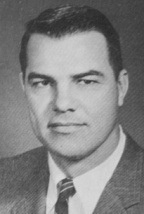 LA County
Candidate Biography:
Born: January 9, 1929 in Los Angeles, CA
Married: Gerry Ann Curtice (m. 1957, died 2007)*
Children: Laura, Frank, Thomas
Military Service: USAF
Died: August 1, 2021 in Indian Wells, CA
1972: Resigned from the State Assembly on March 6.
1972-1984: Member, Los Angeles County Board of Supervisors
1990: Proponent, Proposition 140 [Limits on Terms of Office] (Passed; 52.2%)
1986-1991: Member, Los Angeles County Board of Supervisors
LEGISLATION: As a member of the Assembly Select Committee on Environmental Quality, Schabarum was an author of AB 2045 (Chapt. 1433, Stats of 1970) which became the California Environmental Quality Act of 1970 (CEQA).
Schabarum is known as the Father of California's term-limits law.
PLACENAME: Otterbein Regional State Park in Los Angeles County was renamed the Peter Schabarum Regional County Park in 1989.
Gerry Ann Schabarum died in 2007 after a year-long battle with a staphylococcus infection that her family believes she contracted during a peticure.
Professional Sports: Schabarum was an NFL football player for the San Francisco 49ers in 1951, and 1953-1954.
Source: California Blue Book (1967), (1971)