Bill Bennett
Democratic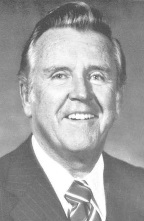 CA Blue Book (2000)
Candidate Biography:
William Morgan Bennett
Born: February 20, 1918 in San Francisco, CA
Married: Jane
Children: Joan, William, James, and Michael
Military Service: ARMY (WWII)
Died: February 9, 2010
1949-19??: Deputy Attorney General, State of California
19??-1963: Chief Counsel, California Public Utilities Commission
1963-1969: Member, California Public Utilities Commission
1966: Primary Candidate for Attorney General (Lost)
1968: Primary Candidate for US Senate (Lost)
1992: Resigned from the Board of Equalization on December 30.
In his letter of resignation from the BOE, Bennett cited health concerns related to "major heart surgery" that he received in 1992.
Legal Troubles: In early 1992, Bennett was charged with 23 felony counts of falsifying his expense records. He later pleaded guilty to a reduced charge (a single misdemeanor), paid a fine, and was placed on probation for a year.