Don Rogers
Republican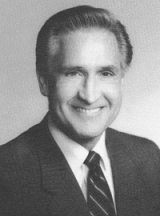 visibility911.libsyn.com
Candidate Biography:
Donald Augustine Rogers
Born: April 22, 1928 in Natchitoches, Louisiana
Married: Marilyn
Children: Mallorie, Grayson and Douglas
Military Service: USMC
Died: October 24, 2018
1992: Resigned from the State Senate on December 15.*
Legal Troubles: According to a San Francisco Chronicle article; In 1992, Rogers declared "that he did not have to pay federal taxes because he held a "white man's citizenship" and was not a U.S. citizen."
In 1992, while serving in the Senate, Rogers resigned his Senate seat (SD-16) to assume another seat (SD-17) due to redistricting.
Source: California Legislature Handbook (1983), (1994)
Source: "State Panel Probes Legislator's Reluctance to Pay Federal Taxes" by Robert G. Gunnison, San Francisco Chronicle (4/16/1996)