Elton W. Gallegly
Republican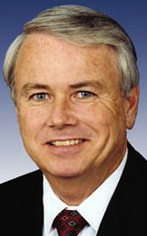 Candidate Biography:
Born: March 7, 1944 in Huntington Park, CA
1979: Member, Simi Valley City Council
1980-1986: Mayor, City of Simi Valley
2003: Early Recall Candidate for Governor (withdrew)
Gallegly announced in 2006 that he would not seek another term, but the announcement came too late in the election cycle for any candidates other than Michael Tenenbaum to seek the Republican nomination. Gallegly later announced that he would, in fact, seek another term, and beat Tenenbaum for the Republican nomination in 2006. Gallegly has announced that he will seek another term in 2008.