Lynn C. Woolsey
Democratic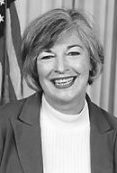 Candidate Biography:
Born: November 3, 1937 in Seattle, Washington
Married: David Woolsey (div.)
Children: Amy Critchett, Ed Critchett, Joseph Critchett, Michael Woolsey (stepson)
1984-1992: Member, Petaluma City Council
1989: Vice Mayor, City of Petaluma
1992: Vice Mayor, City of Petaluma
2004-Present: Member, Progressive Democrats of America Advisory Board
2008: Delegate, Democratic National Convention
"As the first former welfare mother elected to the House, Woolsey has told her story often: as a young, newly divorced and unemployed mother of three in the early '70s, she went on the dole." [Source]
Her 2006 guest to the State of the Union by President Bush was anti-war activist Cindy Sheehan, who was escorted out of the Capitol for wearing a t-shirt with anti-war messages written on it.