Rico Oller
Republican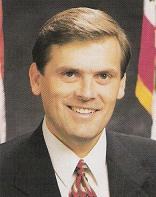 CA Blue Book 2000
Candidate Biography:
Thomas "Rico" Oller
Born: July 16, 1958 in Fresno, CA
Married: Londa
Children: William, Jeffrey, Rachael, and Spencer
Previous: Member, Calaveras County Fish and Game Commission
2004: Primary Candidate for CD-03 (Lost; 35.9%)
2008: Early Candidate for CD-04 (Withdrew)
LEGISLATION: In 2003, Oller was the author of SBX3 1 which repealed SB 60 (Cedillo). SB 60 had passed the Legislature and been signed by Governor Gray Davis on September 5, but was repealed four months later on December 3, 2003.
NOTABLE NO VOTE (Expanded Local Pension Benefits): Oller was one of 7 State Senators (and 14 legislators overall) who voted against AB 616 (2001) by Tom Calderon, which allowed California cities, counties and special districts to offer retirement benefit factors up to 3% at age 60. These higher benefit factors led to severe unfunded pension liabilities in a number of cities a decade later.
Oller is one of nine legislators who served in both houses of the California State Legislature since 1990 but never termed out of either.
Source: California Blue Book (2000)