Scott Wildman
Democratic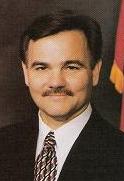 CA Blue Book 2000
| Date | Party | Office | Votes | Result |
| --- | --- | --- | --- | --- |
| 11-05-1996 | Democratic | AD-43 | 49452 | Win |
| 11-03-1998 | Democratic | AD-43 | 55256 | Win |
Candidate Biography:
Scott Frederic Wildman
Born: April 12, 1951 in San Diego, CA
Married: Arlene Irlando
Children: Five
Family: Brother of Richard Wildman
2001: Candidate for Los Angeles City Council (Lost)
2000: Primary Candidate for SD-21 (Lost; 46.7%)
Arlene previously served as Chief of Staff to State Senator Richard Alarcon.
CLOSE CONTEST: Wildman narrowly won the election in the 1996 General election when he defeated John Geranios by 192 votes (0.2%). Wildman wasn't officially declared the winner until November 23.
Source: California Blue Book (2000)